If we told you today that it is quintessential for a business, small or large, to have an email list even in this day and age, you would probably scoff at us. True, that there are so many platforms now for businesses to keep their audience engaged, however, all of that is on borrowed space. An email marketing list is yours, through and through and lets you reach out to your viewer directly in their inbox.

On any given day, we receive more than a 100 automated emails from brands and sellers, which more often than not are filled with links to buy more from them. We usually ignore, delete, unsubscribe to these emails or drag them into the spam folder.
However, once in a while, we get an email newsletter that is intriguing and has great information, that not only do we read but we may also share it with our friends.
As rare as a space this may be to deliver content to your viewers, an email marketing list is one of the most valuable aspects to build a business. An email list ensures a personal and purposeful connection with your audience, that holds more value than any number of likes on social media. Let's get right to it.
INDEX
– Busting myths about email marketing lists
– Important metrics for email marketing
– Effective channel for email marketing
– Content magnets that lead to conversion
– How to build an email list for your business?
– Keeping out of the spam folder
– Creating impactful subject lines
– Creating an engaged email list
– Big don'ts when it comes to building an email list

Let's start with busting some myths on email marketing
1. "It's 2020 and email marketing is not relevant anymore"
A question that is often asked when we talk about email lists is its relevance in today's digital media age. The answer? Having an email list gives you direct access to your viewer. It is not something that they came across while scrolling but they chose to be a part of your list and are purposely opening your mail to have a connection with you. According to Campaign Monitor's annual report for 2019, email marketing is more valuable today than ever, with an increasing ROI that went from $38 in 2018 to $42 in 2019.

To put things into more perspective, the engagement rate on the 'Big 3' of social media (Facebook, Instagram and Twitter) is not even 0.6%. Organic reach can only get you to a point before you have to start promoting and paying to reach a wider audience.
In comparison to that, emails reach 85% of people you send it to, moreover they have a 22.86% average open rate and a 3.71% click-through rate, leading to more conversion and direct traffic. It's no wonder that 9 out of 10 marketeers use email marketing lists to distribute their content organically.
2. "Businesses don't need an email marketing list if their social media marketing game is strong"
An email list is the anchor to the entire business. All other social media platforms that we are on, like Facebook, YouTube, Twitter, etc., are all "rented ground" and one can be disenfranchised from a community built on any of these platforms.

According to Noah Kagan "when you give up communication to your customers through Facebook or Twitter you are now at the mercy of them allowing you to talk to your customers". Instead, Noah suggests that you build an email list that gives you direct access to your customer, making it the most scalable way to make sales and build a deeper relationship.

More importantly, when you use social media platforms, you are also at the mercy of their algorithms, which are always changing. Steve also makes a comment on how these platforms are also constantly evolving and making rules as they go on. This means that you could unknowingly make a penalty, or what worked for you before may become obsolete soon. The only permanent connection you have then with your customers is through your email list.
Ramsay Taplin
Blog Tyrant seconds this by saying, "even if all of my search rankings disappeared tomorrow, I'd still be able to promote my blog to tens of thousands of people via email." 

Most importantly, when you are connected to your customer via email, you're not just a status update or an image that is there and gone as they scroll through social media. You are in their inbox, a place where they connect with other aspects of their life – like work, family and friends.  

Also, targeting on email is much more systematic where you can segregate those who have interacted with your content well and may be interested in more to those that have either not engaged with it or haven't opened your email. This lets you filter your customers in separate buckets so that you send them relevant and valuable information with every communication. 

3. "I barely have people on my email list to leverage my content"
When you start an email list it is going to be difficult to get people to subscribe immediately but that should not keep you from sharing the best work you can.

Email list shaming is a real thing. Yes, you read that right. It refers to a situation where businesses often don't give out valuable content because they don't have a "long-enough" list. The problem with this is that you're not engaging with those who have already signed up and given you the opportunity to have a conversation with them. These early signed up readers can be your power partners who share your work and encourage others to join the wagon.

While it can be hard to craft good content for a very small audience when you're aiming for a much larger audience, these early engagements are what separates those who are successful.

It can't be stressed enough of how important attention from even 10 engaged users can be. Just imagine what you'd give to have 7 people sitting down in your living room, listening to you talk about something that you and your business value, and so it is important that we always do justice to what we write, even with a short email list.


All ready and pumped to know how to build an email list for your business? Let's deep dive then.
Know what you want
Before you start an email list, one of the questions that you need to ask yourself is what do you want from it. What end goal are you hoping to achieve with this email marketing strategy? Is it more subscribers, website views or are you hoping to make a sale. It is important that you be extremely clear about what you want. 
Molly recommends having a two-fold approach – a non-money related intention and business objective. She talks about how email lists lead to an extension of the relationship you've built. The more conversations you can have with your user without making them feel pressured with links to purchase, the better. 

Understanding that your user receives emails from many businesses every day will keep you humble to create authentic and valuable content.


"It can be a little overwhelming (but) that makes it even more important for us to be more specific and clear and provide amazing, juicy, valuable information in our emails. We don't want to send just promotional emails. We want to have an awesome intention in addition to our business objective." – Molly Mahoney
Figuring out the balance in your content is important. Just like any other engaging platform, you have to deliver value to the subscribers on your email list and consistently give back to those who have been engaging with your content.

Viewing an email as a conversation lets you connect with your subscriber and helps them relate to you and your business. Also, transparency is key. It is important to be absolutely clear to your user of what you're directing them to do. 

For example:
When Charity:Water was going to launch their September Campaign, they sent their existing users a pre-launch email asking them to sign-up for regular updates specifically for that campaign. Their users were directed to a landing page that gave them a sneak-peek into the campaign that was set to provide clean water in Rwanda. It also had a short video of their founder explaining how their donations are going to be used.

Over the course of the campaign, the signed-up users were given regular updates on the project. They also added new sections to the landing page that gave out specific information about the Rulindo District, for which the funds were being raised and a featured section called "Meet the people we're helping" where interviews and photographs told a short story of how access to clean water would impact a person's life in Rulindo, Rwanda.

What is most interesting about this campaign is the follow-up to those who engaged with their email and converted to donate for the cause.
When someone donated toward the cause, Charity:Water took them along on the journey of the impact their contribution was making. Not a lot of charities tell you how and where your money goes and this led to many, many more people engaging and donating to Charity:Water.
Charity:Water not only saw a 21% increase in open rates compared to their last year's campaign but they also raised $2 million, which was $300,000 more than their estimate.

The success of Charity:Water's email marketing content was because it did not only communicate with its users to donate for a cause but it also had valuable conversations with them about Rwanda and its people.

So, it is of great importance to keep a balance between your business objective and the value you're adding to your users. Knowing that adding value and giving more to your users has a direct impact on your business objective will keep you grounded. Remember to first create for the user and then for the buyer. 

Understanding important metrics so you keep delivering value  
There are many metrics to define the success of an email marketing list. The most common ones are the open rate, the click-through rate, the unsubscription rate, the complaint rate and the conversion rate.
(a.) Open rate:

Just as the name suggests, the open rate lets you know how many people opened your email, taking into consideration the ones that bounced back. This gives you an audience to test for engagement and response. You can calculate the open rate by dividing the number of people who opened your email with the number of those who received it (eliminating the ones that bounced back) and multiply it by 100.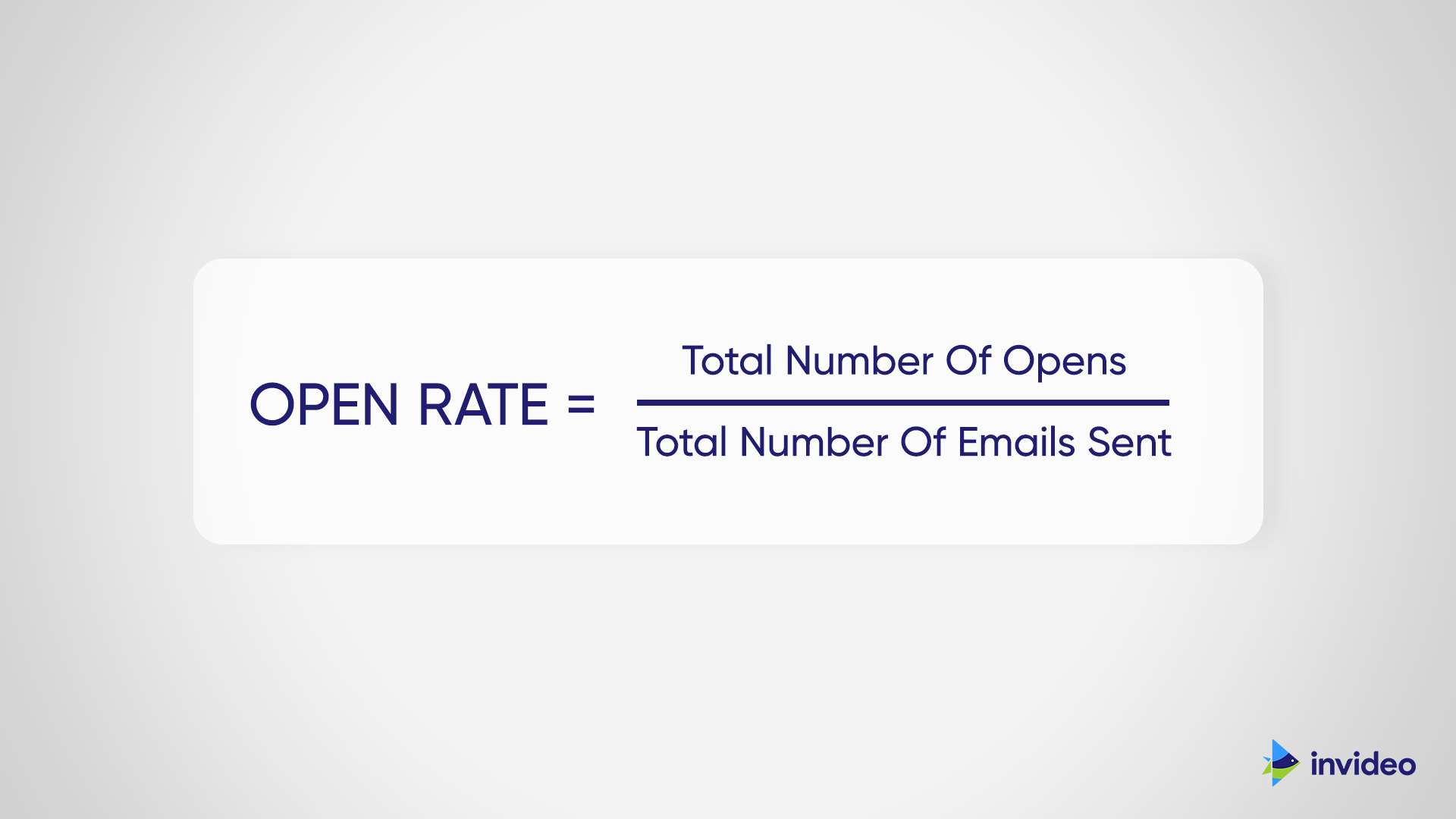 (b.) Click-through rate

Once you've got the above metric, you can measure the click-through rate which indicates the number of recipients who clicked on a link inside the email. This is a key metric for those businesses who are redirecting their customers to another platform to either purchase products, engage with their content, etc.

For example, it is important for The Body Shop to know how many of their customers clicked on the link to be redirected to their store and see the products from their new collection. With insights from this data along with how much time they spent on the website, lets The Body Shop take important decisions for their online marketing.


(c.) Unsubscription rate

The unsubscription rate is the number of users who clicked on the link to unsubscribe. This metric can give you a lot of insights to help you understand your audience and if you are in fact targeting them with the right content. A lot of businesses also add a short poll with this link to collect insights on why the user unsubscribed to their email list.

(d.) Complaint rate
The complaint rate is a scarier metric than the unsubscription rate for most marketers. It is the percentage of your audience base that has dragged your email to spam, to ensure that you never reach their primary inbox again. Email service providers keep an eye on this number specifically, to filter out accounts that are constantly barging their users with fake and promotional emails. If this rate goes too high, it is possible that your email service provider will either block your account or restrict activity.

(e.) Conversion rate
The conversion rate on email lists is known to be the highest amongst all other social platforms. Conversion for every business will have a different meaning. For a travel blogger, conversion may be a subscription to their online workshop, whereas for a business, conversion will be equal to a sale. It is important to first determine what that conversion is to you. Once you know that, it is easy to calculate the conversion rate by dividing the number of conversions with the number of delivered emails and multiplying that with 100, to get a percentage.
(f.) Bounce rate
This metric is important to check the quality of your email list. If you have a high bounce rate this could mean that your list has a lot of fake and old email IDs or ones that have a mistake in them. It is important that you weed these out by asking users to do a double opt-in which requires them to confirm their IDs.

(e.) Overall Return on Investment (ROI)
This is a key metric all marketers check at the end of a campaign. It makes an overall comparison on the amount invested in running the campaign to the return on that investment.

Email marketing is said to have the highest rate of return on investment. The simple method to calculate it is to take the money made by sales from the campaign and minus it from the money spent to execute the campaign. This sum should then be divided by the overall money invested in the campaign, and then multiply it by 100 to get a percentage.
To have a microscopic view of your revenue, you can further divide the amount (before multiplying by 100) with the number of subscribers. This gives you a per subscriber ROI. This kind of metric helps you understand if you should target a particular demographic more often or completely ignore another.

Similar to this is to track an ROI on each email in a campaign. Understanding which email got the most leads and converted into a sale or subscription, lets you understand the content that works so you can do more of that compared to something that is not giving you a hit.

(f.) Mobile click rate
An important metric that allows marketers to understand where their users are viewing their content, the mobile click rate provides many insights.

From it, you can make decisions of how the layout should be for the emails or what call-to-actions are more mobile-friendly and easily clickable, especially if your mobile click rate is high.
There are also other unique metrics that can give you more insights about engagement like the email sharing rate or the list growth rate. It is important to define what you want to get out of the email marketing list and base your metric on that.

If you ask Molly, she will tell you that she looks at the success of her email list on the basis of how many people were inspired by her content and went on to inspire and be kind to more people around them. One of the biggest take-aways from this is that you don't have to fit into anyone else's metric and can define your own as long as it serves the purpose for your business. 

Choosing the most effective channel for your email marketing list
Picking the right platform to host your email marketing list is crucial. There are many services to choose from but understanding what best fits your need is key in making the right choice. The platforms are not simply enablers to send emails but provide essential tools for you to measure engagement and response, and also create great emails and campaigns. Tools like A/B testing, (which lets you compare two prototypes of a web page or in this case, an emailer to determine which one performs better) template designs, automated response, personalisation, etc. have made email marketing more convenient for marketers.

There are both free and paid options available, giving you a range of service providers to choose from. Here we're listing a few of the options that are great to get you started on your email marketing list. 

(a.) Sender
One of the best free tools available on the internet for email marketing, Sender does not need you to know HTML (which is a big pro for a lot of small businesses). You can choose from a variety of templates available on the platform and add your text and videos on it and you can also create newsletters for specific recipients.

What's most attractive about this platform is its analytics feature. It lets you track crucial user information like who opened your email, when they were opened, how many clicked on the link, etc. that give you valuable insights to build accurate user profiles for targeting.

Their free plan lets you send 15,000 emails to 2500 subscribers and you can get a paid subscription for approximately $10 a month. 
(b.) HubSpot 

With tonnes of templates and features that allow you to customise for your brand, HubSpot is a great platform to use for email marketing lists. You can segregate and personalize recipients on your email list based on country, device type and tags (these ensure that the content is specific to each recipient and they don't receive content they are not interested in).

With a 99% deliverability rate, features like A/B testing and custom sending options, HubSpot's automation platform makes it easier to scale your email marketing strategy. It also lets you graph your growth from a broader, quarterly perspective as well as provide you with granular data to create unique insights about your users.

HubSpot's email marketing software is indefinitely free, however, you can opt for more advanced capabilities by paying for their upgraded Marketing Hub plans.
(c.) MailChimp 

A leader in email marketing tools, MailChimp's free version lets you use basic tools like email creation and scheduling. They have also in the recent past added various ad tools and landing pages to increase their capabilities. With a customer database spread out in 175 countries, MailChimp gives you actionable data from the insights it collects to improve your email marketing strategy.

It has over 300 integrations that let you customize the tool for your business and helps you personalize strategies to suit the users on your email list.

MailChimp has 4 plans that range from free to $299 per month and your cost also increases with an increase in the number of your subscribers.
(d.) Campaign Monitor
While this service provider also uses analytics to help you optimise your strategy and segregate users to create targeted customer segments, it stands out because of its drag and drop email editor.

It concentrates a lot on personalization and uses tools to create informed list segmentations and boost engagement. It also has an extensive library of resources available for you to use and become a pro at email marketing list.

You can choose from three mail plans when signing up with Campaign Monitor, which ranges from $9 to $149 based on the tools and services opted for.
(e.) Gmail Mailing List

Did you know that you can also use Gmail to create a free email list to send out newsletters to your users? Yes, you can.
Gmail Mailing List provides great communication tools, especially for small businesses. Not only does it allow you to create as many groups and broadcast lists you need, it is completely free unlike many other services.

With a cap of 500 email addresses, 25 MB limit and 150 emails a day, Gmail is most suitable for small and medium enterprises or businesses that are just starting out.
If you're wondering how to create an email list in Gmail, it takes only 5 simple steps.
1. Log in and click on the Gmail dropdown on the top left. You'll see 2 options drop down – Contacts and Tasks.

2. Select 'Contacts' and you'll be redirected to a new window. This page will have your entire contacts list on your right and a slew of options on your left.

3. From the options on the left-hand side, click on 'Labels'.

4. Now click on 'Create Labels' which will open a small input box. Type in your group name here. Make sure that if you plan on segmenting your users, you be specific and clear.

5. You have successfully created your first group and can create many more depending on your use case. Start adding people to the group by clicking on their contact and then clicking on 'Manage Label' to add them to their specific group. 

Since most of us use Gmail for our personal accounts and are quite familiar with how it functions, it is a great place to start your email list.

There are many free email marketing service providers with powerful features that can help you achieve your goals without needing a paid plan. This is great for small business and marketers who can make the most out of the available resources. If your business does indeed need a paid plan, there are a variety of affordable options with great upgrades available.

Defining content magnets that lead to conversion
We're all familiar with lead magnets and more often than not, they annoy us, especially when they pop up as soon as we enter a website. 

To best define it, a lead magnet is a tool used to provide something valuable to your visitor in exchange for their contact details (99% for an email address). This is one of the easiest and most convenient ways to get users to sign up for your email list.

However, unless you offer something of value, your user is going to cross the pop up. Know that the unsubscribe and complaint rate are high for businesses that ask you for your email to get access to their website as soon as you enter.

Also, a lead magnet is most ideal when it takes place in a buyer's second step of the conversation path. This means that you don't catch them as soon as they enter your website. You let them browse and get a glimpse of the service you provide. This leads to more conversion because the user has had a chance to experience the value that you can add to their life. It is no wonder we all exit the pop up on e-commerce websites that offer us a 20% discount before we even browse their products.

If you're wondering what your lead magnet should offer, we've got some cool ideas. Let's talk about what makes a lead magnet irresistible to a passerby user.
(a.) Must solve a problem
If your lead magnet doesn't solve a problem, there is no need created for the user to sign up for your email list. By solving a problem, you are extending your hand towards what may be a long-standing relationship.
(b.) One quick win

Yes, instant gratification works here. You need to promise and deliver one solution to a signed up user immediately. This could mean access to a webinar, an e-book, an ultimate guide – anything that makes them feel like they've achieved something from starting this connection with you.
(c.) Zero faff, more specific
Your lead magnet is a great way to get users to sign up for your email list and so you need to be able to give them specific reasons to join the tribe. The more details you can put forth clearly, the more leads you will convert.
(d.) Communicates your UVP
If your lead magnet does not communicate why a user should sign up with you instead of your competitors, you've lost them. Your content should give information of why you're great at what you do and talk about your unique value proposition. 


The image above clearly addresses its ideal user – who is someone giving the CPA examination. It then offers a free trial of how using their tool can help them save 400 hours of study time. They have also given a brief introduction of what they are known for. Wouldn't you sign up for this if you were indeed giving the CPA examination? Probably yes. The reason is because they have clearly communicated who they are, what they do and how they can help you.

While discussing lead magnets with Steve, Molly talks about the balance between the value we deliver and the business process we get users to do is very important. She says, "if people are going to just visit your site, consume your content but never become a community member or sign up for your email list, you can't sustain the quality of content you are delivering because you are not generating the revenue that you need from it. There has to be a balance. Recognise the balance between you serving them and getting them to do a business process."

Building an email database organically
Just like any other social media platform, building an email list organically is a slow and consistent effort. You are not only adding people to your email list but also ensuring that everyone who has signed up is being nurtured with value-adding content.
To start you off on your first steps of building an email database, let's look at 5 strategies that won't fail you.
(a.) If you're an already running business, start with your existing customers
Whenever we build an audience on any social media from the very beginning, it starts by talking with the people we already know and engage with. Molly says that your first 100 subscribers will come from having conversations with people you know (customers, friends, people you studied with). Talk to them about how being on your email list will add more value to their life.

Once you get folks to start signing up, it is important to keep the conversation going. Write to your readers just as you would to a friend. Ensure that every new person starts on their own journey through your email list.

Have a "Mr. Roger" style conversations which simply means to address each user singularly, making it more personal. Introductions with "hello everybody" doesn't help in building a one-on-one connection with the person reading the email.

Also remember to inform those who sign up that you will be reaching out to them on email once a week, or more than that, so they know what they are signing up for and expect you in their inbox.
(b.) Leverage the power of content
It is important to deliver the best of your content, even if it is to one signed up user at the beginning. The more value you add to your user's life, whether personally or on the work front, the more they will engage with your content and possibly share your emails with their friends and colleagues.

It is important for your content to connect with your audience. Srinivas Rao, an author and creator talks about creating for an audience of one. His perspective of how we are often lost and tired because we are creating content for too many people at the same time is refreshing.

This also takes away the pressure of pursuing fame, more subscribers, sales, etc., that Srinivas says will follow when you create for yourself authentically. He talks about how creating for yourself might seem pointless at the beginning but understanding that the joy in the process speaks directly to your audience, making it worth it.
He gives the example of Oprah –  who intentionally focused on her own work rather than paying attention to the opinions of everyone else and creating for them. This led her to hosting one of the most popular talk shows around the world, of all time.

Also, giving your users gated content like access to e-books, webinars, cheat sheets and the likes will get your audience pumped about receiving and opening emails from you.

Molly also impresses upon sharing more value to your user base than sending them promotional content. The more your content helps in building a strong and long-standing relationship, you'll see a higher rate of conversion when you offer something to your user.
(c.) Make the most of your online real estate
Every business today has digital real estate in the form of social media presence and websites. You must use these platforms to get more subscribers on your email list.

Your website is real-estate owned by you, which means that you can explore creative ways to grow your subscriber base using pop-ups, landing pages, lead magnets and forms to get your visitors to sign up.

Coming to social media platforms, there are many tools that you can leverage to send engaged users to your website or give them an option directly to subscribe.

Molly shares interesting tricks to leverage your Facebook profile and groups to generate more leads and subscribers. She talks about updating your profile to ensure people know what you do and that you have an email list they can be a part of. This can be done by adding it to your profile and also editing your featured content on your page that will lead them either to your website or your Facebook group.
You can also ask people for their email address when they ask to join your Facebook group. However, ensure that you inform them that you will be sending mails regularly to their inbox.
She also mentions tools like Group Funnel and Group Track that will help you collate this data and tag it since Facebook does not save these responses.

You can also have these conversations with people on Instagram and Twitter that lead them to your website where they can sign up to be on your email list. 
(d.) Make them an offer they can't refuse
When you ask someone for their email address, it is a transaction you're making. No one is going to give away their email address for free. If you want something of value, it is important that you give them something of value.
One of the easiest and quickest ways to get more subscribers on your email list is using lead magnets. Attracting visitors on your website to sign up for your email list by promising and delivering instant gratification shows maximum conversion rates. Use content that you know is helpful and value-adding to the user and send it directly to his inbox when he signs up. E-books, discounts, cheat sheets, webinars or access to a free trial can get many visitors to sign up.
(e.) Collaborate and create co-branding partnerships with people and businesses in the same space
Instead of going out on your own and trying to be the leader, try to collaborate with people who share your ideal clientele. This can be a little tricky for bigger companies and businesses but maybe instead of a competitor, you can look for a power partner – like an influencer or public figure who uses your product.

Molly shares an interesting example of how she put together a list of tips from other coaches who operated in the vocal coaching business. She reached out to them and created a list of tips from some of the people who shared the same ideal user base as hers. She called it an expert round up. While Molly did send traffic to businesses that operate in the same space, she more importantly added value to her users, and that's the key to growing .

She also brings attention to an interesting online tool called Snip.ly which allows you to add an affiliate code to a link that you're sharing. So even when you direct traffic to someone else's page, there is a call-to-action to get redirected back to your page.
You can also find brands that provide ancillary products or services and collaborate with them to give more value to your user – whether in terms of content or offers. 
(f.) Creating opt-ins to convert engaged users
Lead magnets are not the only way to announce your offer. If a visitor closes your lead magnet, there are other spaces that you can use to make him an offer.
The top navigation bar and pop ups are most eye-catching. You can use softwares like Hello Bar to let you create pop ups, top and side bars, sliders and other cool tools that can create multiple opportunities for a user to sign up. An exit pop up lets you catch a user just before he slips out of your website, placing one last offer for him to sign up.

For these opt-ins to convert, it is essential that you make interesting and simple offers. Just like a lead magnet, you can offer access to gated content or discounts that will attract a user to sign up for your email list. 

Keeping out of the spam folder
With tonnes of emails flooding in every week, it is easy for your emails to end up in the spam folder, especially if a user purposefully drags it there.
There are a few simple tricks that you can follow so you stay out of the spam folder.

(a.) Start with the very first email
Molly suggests you start a conversation with the very first email. Getting your subscriber to reply to your first email starts a conversation with them. When that happens, email service providers see you as a whitelisted user (in simple words, a friend and not a business). You can ask your user to reply to a few questions that would help you serve them curated content or even ask them to tell you about what information or help they need from you.

(b.) Don't start with promotional emails right away
Give your user more value before you ask them to make a purchase. This will keep them opening your mails expecting a value-adding content week on week. When a user purposefully opens your email, that is level one of engagement, ensuring that you will always reach in their primary inbox. 

(c.) Create opportunities for people to reply back to your email
Molly shares an example of how she did a reply-on-email RSVP for one of her webinars. This again whitelists you as well as reestablishes your relationship with your user.
You can also encourage conversation by proposing to respond to questions on email for the next 2 hours. An immediate response to an email creates a greater sense of engagement with your user.
(d.) Segregate your users based on what content they need
Most of the times emails get dragged into the spam folder is because they are irrelevant to the user. If you're serving them something they don't need or that doesn't add value, not only will they stop engaging but they may either unsubscribe or spam-tag you. One of the easiest ways to avoid this is tag your users based on the content they consume. Use insights from tools available on your emailing platforms that let you categorize your user, ensuring that he only receives content he needs.
(e.) Email list cleansing must be a ritual, period
This trick lets you remove users or segregate them for retargeting based on their behaviour. If a user is not opening or engaging with your emails, there are chances you may end up in the spam folder. Keeping a track of these users is important to stay away from the spam folder and it also gives you a second chance to offer them content that may be useful.
(f.) Don't purchase email lists
We can't stress how big a no-no this one is. Neil Patel calls purchased lists "ticking time bombs". The leads on these paid-for email lists are often filled with users that are randomly tagged and not properly segregated based on their needs and likes. They can also contain many dead email addresses and spam traps, making it easier for your mails to end up in the junk folder, and worse be branded as a spammer.
More importantly, people on a purchased list don't know you and have probably no connection to your business. It's quite possible you will be shooting arrows in the dark to users who don't see value in the content you're serving.

Also, purchasing lists is a violation of the rules of consent set by GDPR – General Data Protection Regulation, a European data privacy act, and the CAN-SPAM Act, which is applicable in the United States. Even if you don't operate out of Europe or the United States but have users you cater to there (especially randomly tagged ones from a purchased email list), you come under their purview. These acts require users to sign up for receiving emails by checking a box, double confirming that they want to receive emails from that particular business, and so purchased lists become noncompliant. 

A lot of email service providers also have strict regulations to monitor the use of purchased lists and can lead to your account being immediately terminated.

(g.) Avoid using high-risk words like free, buy, promo
Spam filters analyze your content and then segregate you into email folders, like primary, promotional, spam, and junk. Using high-risk words like free, discount, buy, and promo flag your email to be put in either the promotional or spam list.

Speaking of the optimum number of emails that you should send to a user, Molly and Steve share the same view. If it is truly value-adding content that will help your users, send one every day (but please pay attention to open and engagement rates to segregate users who don't like receiving mails so frequently). The same sending pattern cannot be followed for promotional emails. Too many promotional emails is a one-way ticket to the spam folder. 

Creating impactful subject lines
While delivering content, it is very crucial to ensure you have an impactful subject line. The subject line is the first thing that attracts a person to click on an email. If your subject line is not interesting, even if you are indeed serving the best content out there, your email may be lost amongst many others. Here's how you can write great subject lines:

(a.) Keep it simple and concise

For starters, long subject lines will get cut and not be seen as a complete statement in your inbox. Keeping it concise gives your user a quick hint into what he should expect when he opens your mail. HubSpot recommends keeping your subject line's length to not more than 50 characters. They also suggest not to use words like 'newsletter' and 'update' since they may decrease the open rate.

For example, if I am a fashion blogger who's sending you an email about the latest trends of the season, a subject line that says 'Trends to rock this summer' will get more clicks than 'Your weekly fashion newsletter from XYZ blog'.
(b.) Personalization

When a subject line directly speaks to your user, they are more likely to click on it. You can use personalization tools to add their name or location to the subject line, making it more interactive and clickable.

AirBnB uses personalized subject lines like, 'Thinking of a longer Missoula trip, Mike?' or 'Where to next, Samantha?'. These subject lines immediately catch the attention of the user because they address them directly and start a conversation too.
(c.) Catchy, funny and interesting
Some of the best subject lines are the ones that make you smile. Playing with words, using pop culture references or even catchy phrases can create curiosity.

For example, a cell service company promoting their new ringtone facility can have the subject line as 'Put a ring(tone) on it'.

(d.) Urgent or 'Missing out'
We have all received emails with subject lines that say 'Only 5 hours left to get the best deals on jeans'. These subject lines communicate an urgency to open the mail and get redirected so you don't miss out. Fair warning, over use of urgent subject lines can be uninteresting after a while, so save them for when there is really something to create excitement for.
(e.) Hint at what is inside
A good subject line should communicate what the reader has waiting for it inside the mail. It is bad to make false promises or create fake mystery. 'Ultimate cheat sheet to creating an email list' or 'Pride week celebrations at Barnes & Noble' precisely communicates to users what you want to talk about.
Creating an engaged email list

According to Molly, "when you are looking to unlock the organic algorithm, unlock the ability to increase deliverability for people to see your stuff, to increase reach, to increase engagement, you want to make sure you have 3 pieces in place."
(a.) Show up
If you don't show up and start sending emails, no one is going to receive them. Don't let a short email list keep you from creating great and value-adding content. It is also crucial to be consistent. Emails sent at odd frequencies will not get a user hooked. The goal is to keep them excited to receive word from you.
(b.) Have a conversation
Make sure that you are communicating with a person and not everyone together. The whole purpose of an email list is to build strong relationships with your users and that is only possible when they feel connected to you. Take your interaction to your social platforms, engage with these users on social media too that lead to many threads of conversation, keeping them engaged.
(c.) Recognizing what the platform wants too
Each social platform has its own unique algorithm that can catapult you into reaching many, many more people organically. When we get more people engaged on these platforms, they help us push our content – ultimately leading to more engaged subscribers. 
Molly impresses on a balance between these three – you, the user and the platform. It creates the perfect sweet spot to maximise the engagement with your user. 

Big DON'Ts when it comes to building an email list

Apart from the previously elaborated 'don'ts'  like – don't buy email lists, don't spam or use high-risk words, here are some of the other absolute don'ts when it comes to building an email list.
(a.) Don't wait for too long to connect
As and when you add people to your email list, make sure that you send them their first mail and regularly keep in touch otherwise they may forget that they ever subscribed to your email list.

If you use an email service provider, an automated response will go out to a new subscriber immediately. However, ensure that you send a welcome message to your new subscribers if you're handling your email list manually.

Emailing regularly is imperative for healthy engagement with your users. Create a schedule and stick to it. If you plan on increasing your frequency of mailing, do so gradually, giving yourself and your user time to embrace the change.
(b.) Don't forget to promote your email list
At the beginning of anything new, we always are enthusiastic about promoting it and getting people to sign up. However, as time goes by, we take it slow, put in less effort and sometimes even forget. Not promoting your email list will have an impact on your growth rate. To be on the top of things, make a promotion plan and spread it across dates and timelines to ensure you don't overdo it one month and completely lose touch in the next.
(c.) Ignoring the 'snippet' tool provided by some service providers
Some email service providers let you see a snippet of what's in the email alongside the subject line. More often than not, companies ignore this tool, leaving users with confusing texts in the section like – 'Problem viewing this email?' or 'XYZ Institute logo'.
To avoid this, make sure that the text at the start of your email adds to your subject line or if you are using a template, don't forget to manually set this.
(d.) Don't forget to test emails
Testing emails lets you understand what works with your users. There are many tools available on email service providing platforms that let you test different varieties of emails and give you actionable insights on which ones worked best. Not paying attention to this can keep you away from a small tweak that could make a big difference.
In an ever-changing marketplace, what sticks are relationships and there is no better way of building these than brewing long-lasting connections. We hope we have not only convinced you to start your own email list but also given you a lot of information to keep you going. See you next week where we'll discuss how to get more views on YouTube with Nick Nimmin, just between you and me.