It's 2021, and unless you're living under a rock, you know how crucial content marketing is for your brand. You already have the answer to 'what is content marketing?', what you need is a direction in framing your content marketing strategy from the ground-up specifically for your brand. Amidst the myriad choices of platforms, formats, and touch-points you have available, how do you zero down on a framework that's custom-built from the ground up just for your brand?
On our first episode, Steve Dotto sits down with Andrew and Pete– the founders of a multi-award-winning agency who've helped hundreds of businesses create share-worthy content that people love. Together, we unravel the mysteries of content marketing, so we can bring you actionable insights that you can implement for your brand in 2020!
The Plan Of Action
Step 1: What is the Purpose of your Content?
Step 2: What will you Create?
Step 3: Which Channels will you Use?
Step 4: How will you Distribute your Content? – The 50/50 Rule
Step 5: How much Should you be Spending on Paid Traffic?
Step 1: What Is The Purpose Of Your Content?
There can usually be two possible answers to this question:
Either you want to build your user base, or you want to sell your product.
Building your user-base:
People interact and engage with content that either brings them value or entertains them. Hence, when your focus is on getting people to come to follow your social handles or subscribe to a blog page you have up and running, your content needs to be less about you and more about what they're interested in. This is what is typically called 'Top of the funnel', or TOFU content.
There are two keys to unlocking the perfect TOFU content for your brand: Research + Snackable content
If you are relying primarily on digital marketing, research and find out where does your target audience spend most of their time, and what kind of content do they consume the most. This will let you zero down on the platform/channel that you would leverage for your brand + tailor-make your messaging and content.
Let's say you own a pet-care shop and your audience is primarily made of pet owners- there's a very good possibility that they spend a lot of time on cute animal pages on Facebook and Instagram that serve them funny/cute videos of pets.
Now, you will take this insight and turn it into a very interesting snackable video around pets.
The formula for any snackable video is: Something interesting derived from your previous insight + Branded end-card
With just a bit of tinkering, you can arrive at an idea on the lines of 5 things you didn't know dogs could do, and your snackable video could look something like this.
Similarly, if you are a clothing brand, you can create a 60-sec video around 5 styles that are making a comeback in 2020.
Or, if you're a yoga instructor trying to get people to follow your Instagram page, you can create content around 5 yoga asanas you can do anywhere at any time!
If your audience loves consuming this piece of content, there's a very high chance they'd want to follow you to get more of your content.
Selling your product:
Once you feel like your user base has grown, and it is time for you to start tapping into some of these users and get them to buy from you; it's time for you to conduct a litmus test. How do you understand which user is ready to start receiving promotional content from you? Simple, use one of the most tried and tested content marketing tactics of all time; hand-raiser content.
Hand-raiser content
Let's say you have a single product that you want to sell; a membership to your gym. Now, initially, you are building your audience with appropriate digital content like blogs about 'benefits of working out' or 'top 10 exercises to do when stuck at home'. You notice that your blogs are getting a decent readership, and now you gradually want to start selling membership to your audience.
However, if you bombard them with promotional content without gauging their position on your sales funnel, you will lose them. This is when you use something called a 'hand-raiser content'. Let's say you send a 'Sign Up' post for a free one-hour session to figure out which of your audience is willing to come all the way to the gym for the free session.
This will get a warm lead to raise their hand, and flag that they are interested to try out, and eventually buy your gym membership. So, what the hand-raiser content tells you is which of your audience members are ready to view your promotional content. Now, remember, this isn't necessarily a list-builder exercise. You are not adding new emails to your list, but rather, you are filtering your existing list for potential buyers, and moving them along your sales funnel.
Once you identify those interested, you can now specifically show them content that is geared towards selling your membership to them. For example, a mailer offering a "10% discount on membership if you buy it before the end of the month".
Another example of a successful hand-raiser content piece is the price guide for your product. Many sellers are not comfortable putting that up on their website, but they can definitely make a price guide for email downloads.
Let's say you run a homemade jewellery business and you want more sales. What you can do is mail your price guide for your top-selling products to the list of emails you have curated over time. Those who do download the complete price guide to check it out are usually hot leads, which you can then convert to buyers with calls or targeted emails.
Time to go for the kill: Selling your product
Now that you've filtered your potential buyers via targeted content marketing, It's time to hit them with your promotional content. You can start showing your warm leads 'buy now' ads or start sending out mailers to them because they have clearly demonstrated interest.
Here's an example of a direct ad that's intended to get warm leads to buy.
Step 2: What Will You Create?
In the content marketing world, most suffer from a common problem called analysis paralysis.
Imagine you are running a make-up business, and you don't have a clue about the kind of content your users would engage with. You released a couple of blogs, maybe one YouTube video, but it was not able to engage your audience in an effective manner.
A simple yet effective rule of thumb in content marketing is to let your demand guide your content.
Now, there are three effective ways in which you can figure out what content you should be serving your audience:
Listen to your audience's requests and make content that they have specifically requested.
Go over the statistics on the most searched topics in your industry, and make content around that.
Look at your audience's consumption pattern and what they like consuming, and create content that appeals to them.
So, in the case of your make-up business, if the audience has requested a how-to video for your eyeshadow palette, then make a video on that. Alternatively, if you find out that 'how to do smokey eyes' is a popular search request, then make a make-up tutorial on how to do smokey eyes, using your range of products.
A perfect example of the third approach is to look at various makeup influencers and the kind of content they are putting out, which is being liked by your audience. You can do an out-of-the-box piece like "3 different ways to use lipstick" or "a guide to finding your perfect foundation shade", which will draw your audience to your content.
Now, the approaches mentioned above usually help you build your user base, but what about when you are ready to sell?
This time, you would want to create a much more direct video ad with a call to action, showcasing an offer to your audience, who have interacted and consumed your content.
In the case of the makeup business example, your video could be a short 5-second video ad declaring a 40% sale on your products, and how it's only valid for 48 hours. This will entice the user and project a sense of urgency, which will compel them to shop as soon as they see the ad.
It is important to remember that the products that sell the most are usually solving very real problems. For example, if a person can't find an organic moisturizer, and they come across content from your makeup brand claiming that your moisturizers are organic, it will immediately appeal to them. Accordingly, your content marketing approach should focus on highlighting the specific pain point that your product is going to solve for the user.
Now that you're closer to getting your content creation framework in place, let's figure out which channels would you be looking to leverage to distribute your content.
Step 3: Which Channels Will You Use?
As a marketer who is still figuring out the right content marketing strategy, it is quite common to draw inspiration from successful campaigns of top brands and try to dabble in a bit of everything. Most businesses are making content for users who are all on platforms. So which platform should you make digital content for?
Let's say you are planning a YouTube video, posting on Instagram, writing a blog for LinkedIn, and in general, going crazy. That won't help you grow. Omnipotent marketing might be the buzzword, but it is rarely useful.
Small businesses simply do not have the resources to create content for every single platform, so they should not be spreading themselves too thin. You can't be the jack of all trades and master of none, otherwise, the quality of your content will suffer. What we instead recommend is that you might do one thing only, but you must do it remarkably well.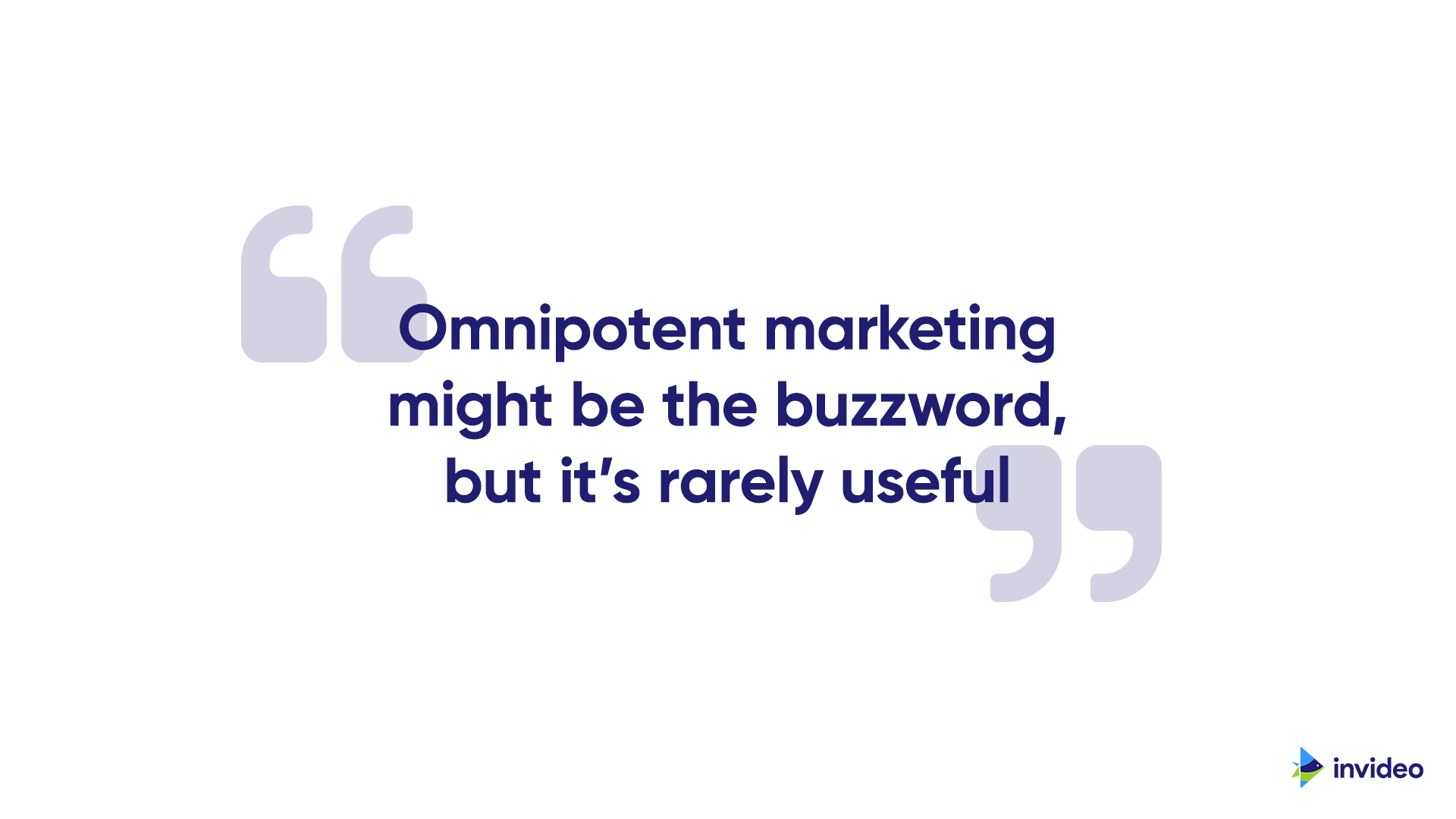 This is the 90/10 rule, where you dedicate 90% of your resources to create original content for a specific platform, and build your audience from that platform. The remaining 10% can be used to repurpose content or experiment with other platforms.
For example, Steve Dotto's primary channel for his audience is YouTube where he creates long-form content pieces like this:
This video is about optimization of sound on a Zoom call and he takes you through the exact steps required to achieve the best audio on Zoom. Here's how this can easily be repurposed into a smaller snippet for Instagram, asking his audience to come to check out the original video on YouTube.
As a content creator and marketer, if YouTube is your primary platform, then you only have to worry about posting one video every two or so weeks, which leaves you with enough time to ideate the next video and shoot it really well.
But, how will you decide which platform should be your primary platform?
Again, the selection of your primary channel for content marketing goes hand-in-hand with what is the consumption pattern of your audience. What are their viewing habits? Where do they spend the most amount of time? How do they make their purchasing decisions? Where do their favourite influencers create content?
For example, if you are a B2B software selling a business, most of your audience would be on LinkedIn. So, that would immediately become your primary platform, and you could use Facebook and Twitter to drive traffic to that platform.
But, hold on! Your job doesn't end at simply making a great piece of content. Promoting your content is equally important, if not more.
Step 4: Distribution – The 50/50 Rule
The world of content marketing has a golden rule which recommends that 50% of your time, effort, and money should be used for content creation, and the remaining 50% should be used to promote existing content.
Let's say you have a car showroom and you've created a great video about some popular comedians buying their cars from your showroom. You have spent a lot of money on it, and it came out really well but it got no traction when you put it up.
Well, the key to getting eyeballs on your content is to promote it really well. So, you should try to get automobile influencers and blogs dedicated to car reviews to share it with their audience so that your content reaches more of your target audience.
Another example that we can look at is that of an SEO expert and blogger Brian Dean, whose blogs on SEO are arguably the best blogs on the internet. Brian usually puts in a lot of research and time in writing an incredible blog but also spends close to six months getting as many backlinks to his blog as he can. He diligently promotes his blog once it's actually published because he knows how important that is to get his blogs to rank on search results.
Follow the 50-50 rule religiously, and make sure that even if you produce two really incredible pieces of content a month, you promote them equally well- as opposed to trying to post something new every week.
Step 5: Paid Traffic
Paid traffic can help you amplify your content marketing efforts and leverage your best-performing content to keep getting you high-quality traffic and leads at scale.But, how do you identify which pieces of content you ought to spend ad budgets on? And, how much should you be spending in the first place?
There is no point in advertising every piece of content that you have on your platform. Rather, pick your best performing content and invest your ad spends on that.
Your ad spend is a function of your Customer Acquisition Cost (CAC). If you are ready to spend $50 on a paid customer since their Lifetime Value (LTV) is $200, that's a great bet because the LTV: CAC ration needs to be above 3:1. So, this means that you can spend $50 in terms of ads to (let's say) get 100 people to watch your content, 10 people to visit your website/landing page (10% conversion), and 1 person to buy.
Now that we've broadly covered the five tenets of your content marketing plan, let's do a quick run-through of everything we've learned so far!
We hope you've got enough gunpowder to hit the ground running. Remember that imperfect action taken today always trumps perfect knowledge that you'll implement tomorrow. We've given you everything you need to know to get you started with your first leg of content marketing. This isn't a time for excuses. Let's go!