Facebook has over 2.27 billion users, and 1.5 billion of them are active on the platform every day. That makes it the perfect place to advertise your products or services. In 2019, Facebook generated over $69.66 billion in advertising revenue. And Instagram was responsible for more than a quarter of those earnings.
Therefore, it isn't surprising that companies around the world are readily advertising on Facebook. But it is also true that many businesses fail at Facebook advertising. And, that's because they are not able to implement their campaigns in the right way. You need to understand your target audience, test out new marketing channels, and constantly track the campaign metrics to make your Facebook marketing campaign a success.
Here Are The Five Simple Steps To Advertise On Facebook
1. Select The Objective For Your Campaign
The first thing that you need to do is pick an objective for your ad campaign. Facebook automatically optimizes your ads. It gives you customization options depending on the objective that you choose. You can choose an objective for your Facebook advertising campaign based on your marketing and business goals – whether you want to increase awareness, views, engagement, or secure more sales. There are over 11 marketing objectives to choose from.
Note: If you have been wondering how to advertise on Facebook, and you don't know where to start, the first step should be to install Facebook Pixel on your company website. It is a small piece of code that helps you track conversion, remarket to users who have interacted with your brand before, and even create lookalike audiences. In simpler words, Pixel extracts valuable data about your target audience from your website. It also uses it to create even more targeted campaigns.
2. Find Your Target Audience
Facebook's accurate and effective ad targeting options is the reason why many advertisers choose to market their business on the platform. With Facebook, you can find potential customers based on just about any parameter, including their geography, demographics, behavior, and interests.
You can create an incredibly specific audience based on their behavior and interests.
For instance, if you are about to launch a new gardening mobile app, you can target users who are interested in gardening. And you can use Facebook primarily on their mobile phones so that they can directly download your app with a single tap, leading to higher conversions.
Similarly, you can also target users that have liked your Facebook page, downloaded your app, or shown interest in any previous brand events.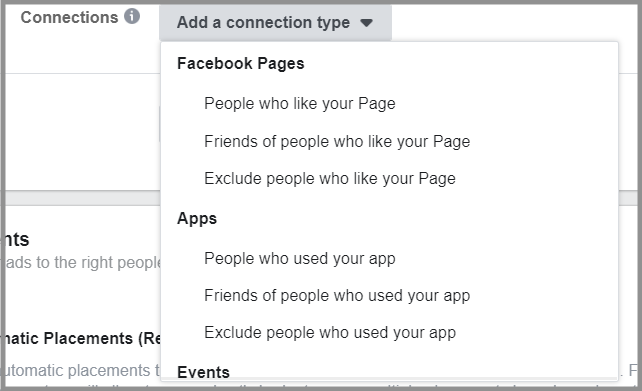 3. Select An Ad Format
Wondering how to advertise on Facebook effectively? Pick out the right placements for your ads.
Facebook offers more than a dozen ad placements that you can use to publish your company's ads on Facebook, Messenger, Instagram, and its other extended audience network.
For ad placements and formats, Facebook gives you two options – Automatic and Manual.
The default option is Automatic, which means Facebook will analyze your ad and choose the best placement options to get the most optimum results. You can also select the manual option and select any of the 11 placement options available.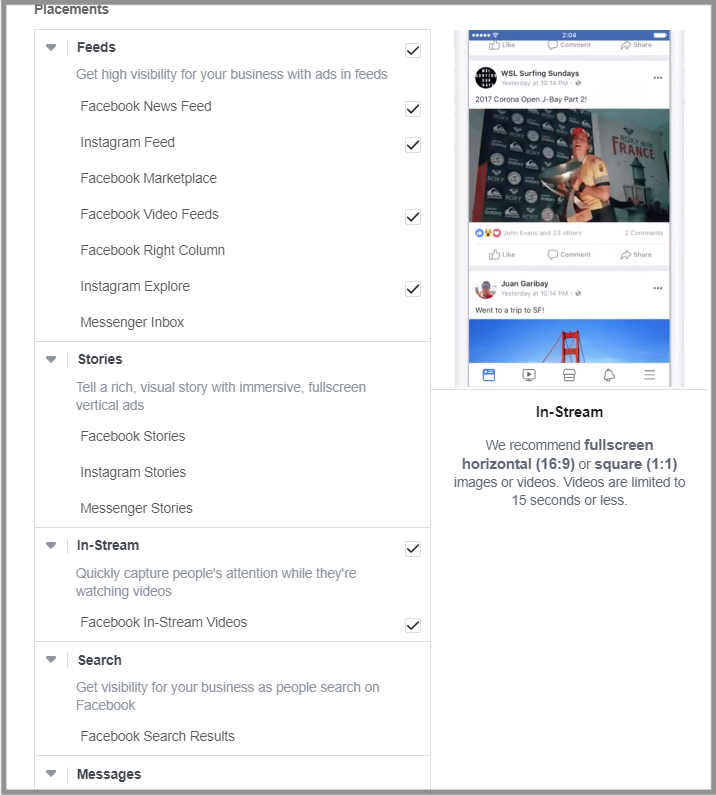 While you can choose to run your ad in all formats at the same time, you shouldn't do that. Instead, be specific about the kind of ad you want to publish.
If your Facebook marketing objective is brand awareness, you can choose Facebook or Instagram Stories ads. On the other hand, if you are looking to increase conversions, you could run in-feed ads with the relevant Call-To-Action buttons to get the maximum result.
4. Optimize Your Budget And Schedule The Ad
Based on your ad type and target audience, Facebook automatically suggests a bid range for the ad. If you are new to Facebook ads and you are just experimenting, it's best to start your bid range with the lowest amount possible.
You can either set a daily budget or a lifetime budget for your ad campaign. In both cases, you would have to decide on a start date and an end date.
Based on your campaign objective, you get charged according to the number of impressions, views, clicks, or leads.
The next step is to schedule your ad. While you can choose to run your ad all the time till your budget gets exhausted, we recommend you be smart about when to publish your ad to maximize your investment. So, only post your ad when your target audience is online.
So, if your ideal customer is mostly online around lunchtime on weekdays, you can choose to only show your ad to your audience between 1 pm-2 pm every day. (You can only schedule ads with a lifetime budget)
Note: The average CTR (click-through rate) of each ad campaign will decide how much you would have to pay for the campaign. If the CTR is high, then the bid amount will decrease, if the CTR is low, then you would have to bid more for every click.
Your bid amount also decides how much of your target audience you are able to reach. A higher amount leads to better reach.
5. Create A Killer Ad Creative
How to advertise on Facebook in a way that leads to maximum conversions? Create an ad that your audience JUST cannot ignore.
No matter how accurate your ad targeting is, it is your ad's creatives that will decide the actual conversion rates. Users are now bombarded with paid and sponsored content on any platform, and it is very easy for them to scroll through your ad without paying any heed to it. That is exactly why you need to create killer ad creatives every time. You can either publish image ads or video ads through Facebook.
Image Ads
Single image ads allow you to publish only one image per ad. If you want to incorporate more images in your ad, you should go for a carousel ad template that lets you add up to 5 images with different captions that the users can scroll through.
According to a study, carousel ads can drive 10 times more engagement than single image ads, which is why most advertisers prefer them.
Though, single image ads are best to experiment with different image and caption combinations to see which ones connect more with your audience.
Video Ads
Video consumption is steadily increasing every year on every social media platform.  While videos only make up for 11% of posts on Facebook, they can gain up to 8 billion views every day. That means, if you are still not publishing Facebook video ads, then you are missing out on a lot of prospective customers and revenue.
You can use videos to tell a story about your product or services. With videos, you get a more significant opportunity to make your ad stand out.
If you are wondering How to create Facebook ads that are creative, engaging, and unique, then you should know that you don't need to be an expert at video editing to create and publish engaging video ads.
InVideo is a free video editor that lets you quickly create video ads by merely dragging and dropping the required elements. There are also thousands of templates available on InVideo for every type of Facebook ad that has been carefully created by experienced marketers, copywriters, and graphic designers. All you have to do is edit the templates to fit your brand message, and you are done.
Note: If you are building a small business marketing strategy for your brand, you should always experiment with different features, templates, placements, and ad publishing timings. Do this to find the best combination that gives you the most click-throughs, conversions, or sign-ups.
If you are posting video ads, keep in mind that 85% of Facebook users prefer to watch videos on mute. So, you should either post videos that make sense even without any sound or add captions to your videos.
6. Track Performance
Analyzing analytics and insights is one of the most significant parts of understanding how to advertise on Facebook. After you publish ads, closely monitor your campaigns through the Facebook Ads Manager dashboard to see how they are performing.
After all, if an ad isn't performing well, then it doesn't make any sense to put all your money into it. If you are starting out, experiment with different ad creatives, audiences, and budgets. Once you have determined all the winning factors, you can run a bigger campaign to get the best results possible. You can also reallocate the budget of underperforming ads to the top-performing ads.
Final Words
Now that you know how to advertise on Facebook, it is time to put all of these tips into action and watch your brand reach new heights on the social media platform.